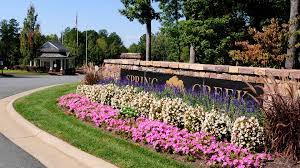 Spring Creek
Zion Crossroads, VA 22942
Welcome!
Spring Creek is a gated residential and golf course community in the heart of Central Virginia, strategically located near the intersection of Interstate 64 and US 15, between Richmond and Charlottesville. At Spring Creek you are just steps away from the clubhouse and dining and the Sports Club with swimming and fitness center. If golf is your thing, we share the property with Spring Creek Golf Club, ranked 66th among America's Top 100 Public Courses by Golf Digest. Residents have the opportunity of joining the Club while still enjoying homeowner's amenities such as tennis, basketball and pickleball, miles of walking trails, and a variety of social activities. Whatever your interests, Spring Creek is more than just a place to live – it's a place to call home.
Hello & Welcome!
Welcome New Residents! For up-to-date information,
click on Spring Creek Current newsletter to subscribe.
Settle In! Click here for six quick steps to help you settle into life at Spring Creek.
Neighborhood Safety: State law requires that cars stop when school buses are stopped letting kids off and the sign is out. Please make sure you stop to allow students to cross the streets safely.